One of the best things about Adha Eid or Bodu Eid, (apart from all the food we eat) is getting some days off from our busy work schedules. Traveling is on top of our list of things to do during these holidays. Lucky for us, local transfers are now made easy with transfer options being endless.
The big question for the upcoming Eid is not "How to go to an island" but rather "Which Island to visit". Continue to read to find out some of the best islands to visit during this Eid and why it should be on the top of your "islands to visit" list!
1. Ukulhas
Best known for its long stretch of the beach but this July, you would have many other reasons to visit the island.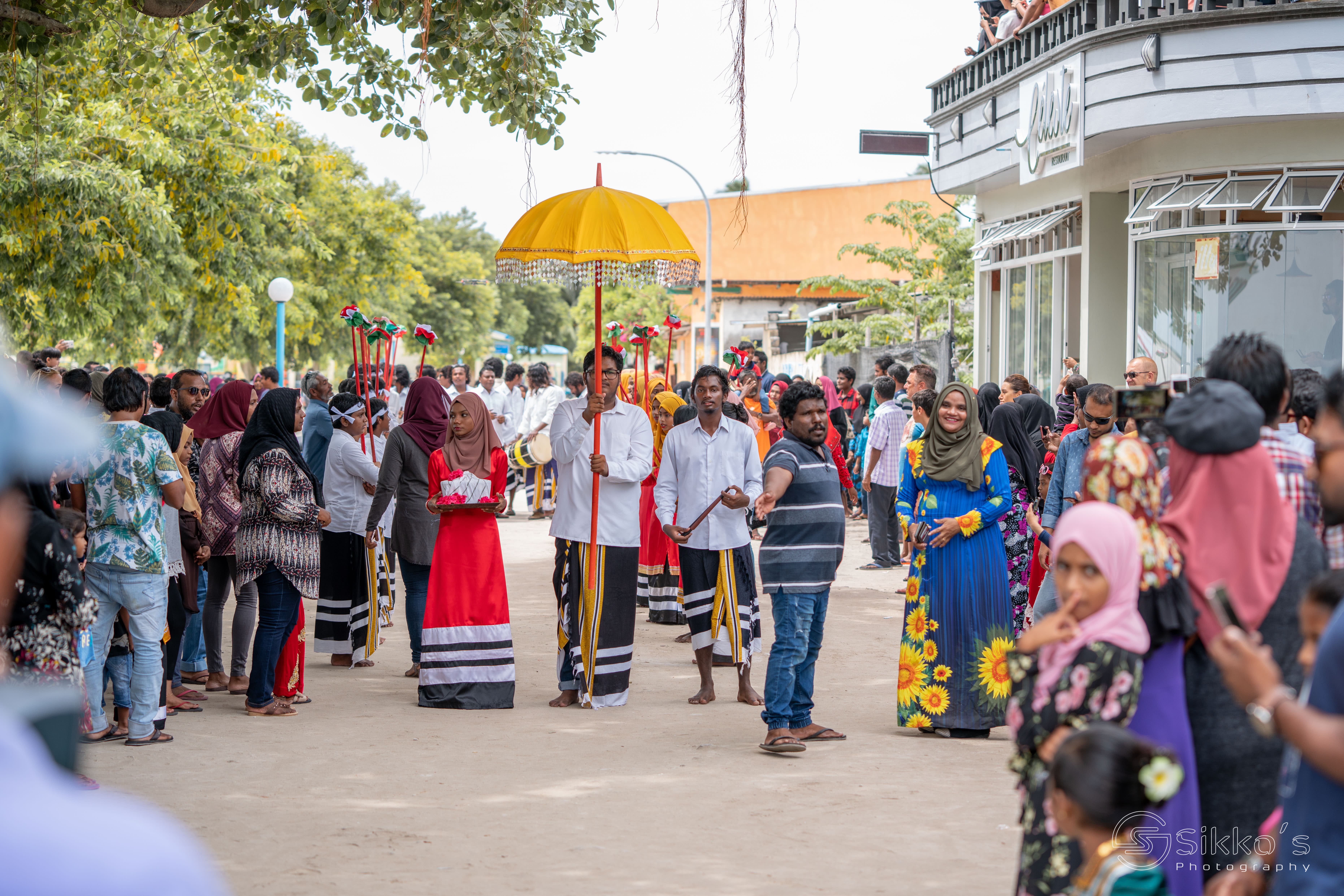 PHOTO: Ukulhas Eid - Sikko Photography
---
You can enjoy an Eid Jaafaiy (Eid Feast), a color run, Vaadhemun (Tug of War), Float parade and a stage show with performances from different performers. To top all of this, a fireworks display is planned as well. It doesn't get better than that. Don't you think?
2. Dhangethi
Dhangethi is a true hidden beauty that is about 90km from Male', nestled in the Southern Ari Atoll. It is truly a melting pot of pristine flora and fauna.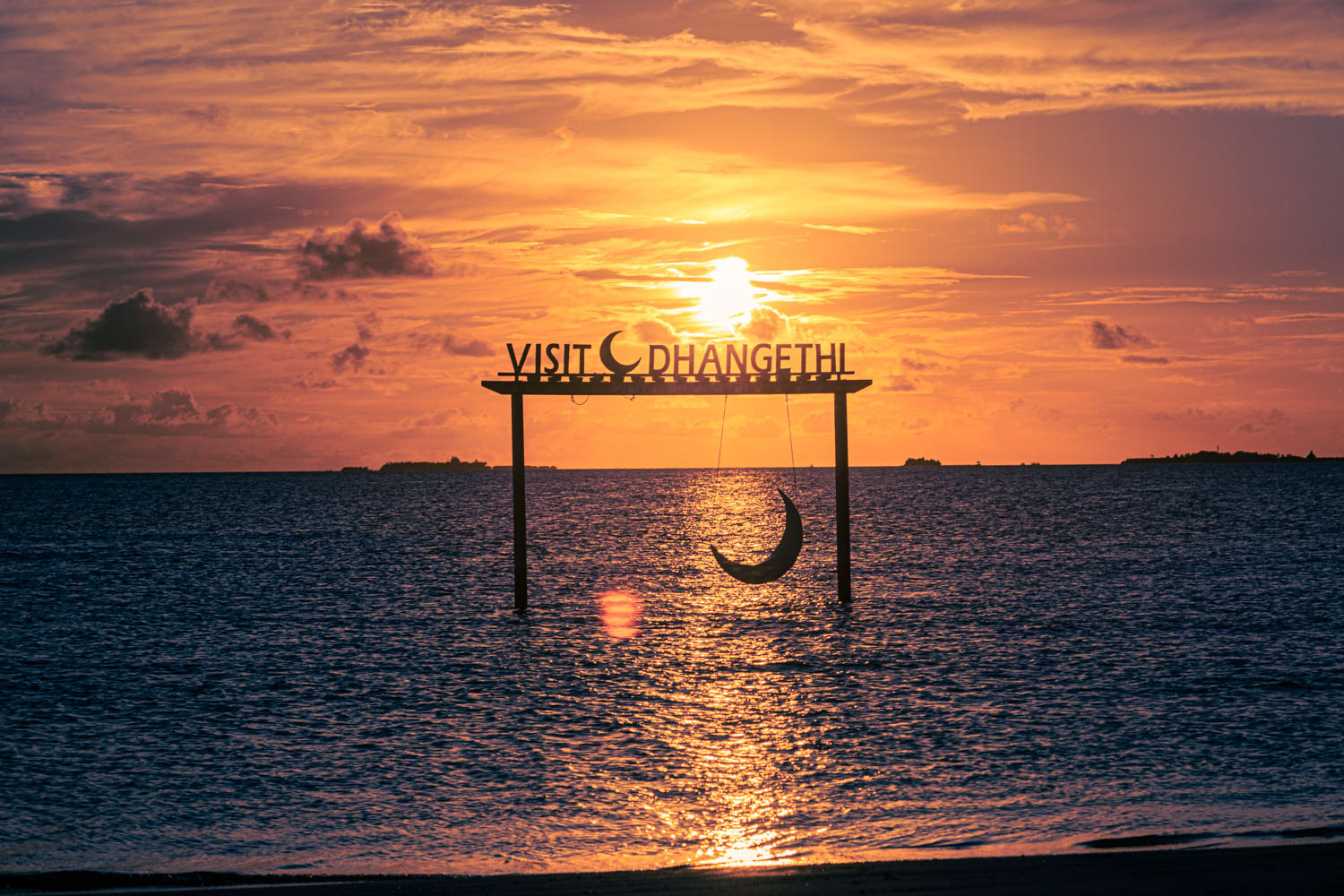 PHOTO: Dhangethi
---
Dhangethi will kick things off this Eid, with a special Eid Sai (Eid Tea) prepared by locals, right after the Eid Prayers. Traditional activities such as a competitive fishing tournament (mas race), along with Koadi Kulhivaru and a Boduberu show are also on the long list of things planned in the island.
3. Crossroads Maldives
Crossroads is a multi-island leisure destination which is a perfect fusion of both traditional and modern aspects of Maldives. It is no surprise that Crossroads has its own plans to keep everyone entertained during Eid holidays this July.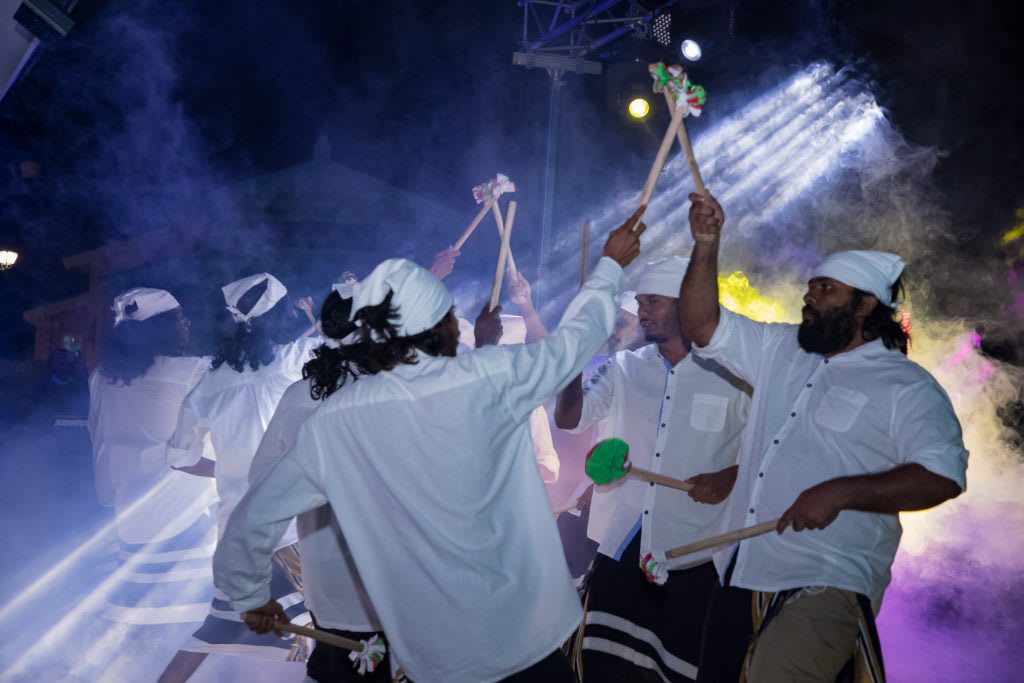 PHOTO: Crossroads
---
A Bodu Eid Foari program carefully designed will commence with an Eid lunch at the Marina followed by beach games at the Beach Club. There will also be a Bodumas Parade at the Marina along with a Bodu Eid Show at the Beach club. Going to Crossroads is as easy as going to a local island as speed boat transfers are available daily.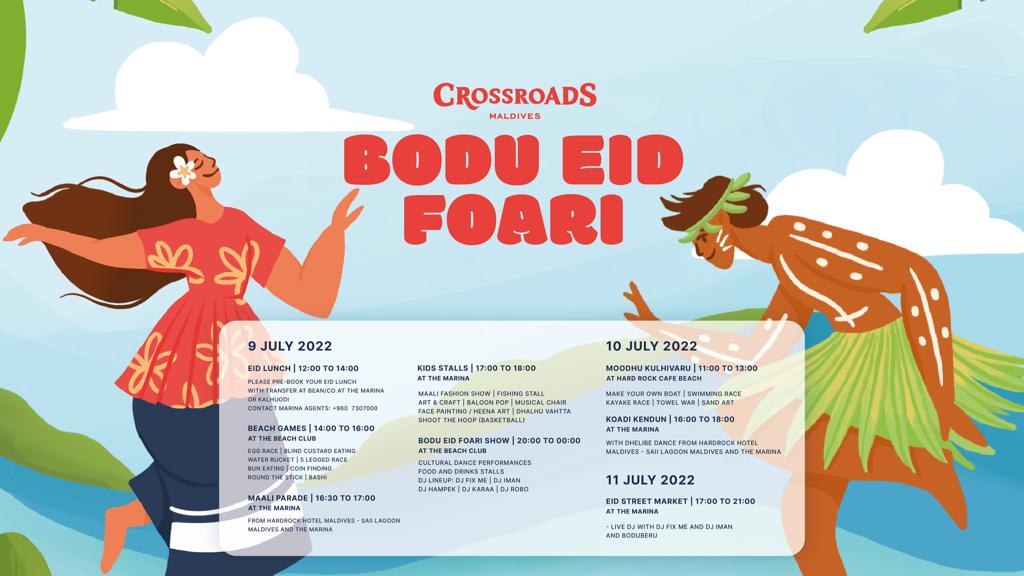 PHOTO: Crossroad Bodu Eid Foari Activities
---
4. Rasdhoo
Rasdhoo and diving go hand in hand, but that's not the only reason to visit this little diving paradise.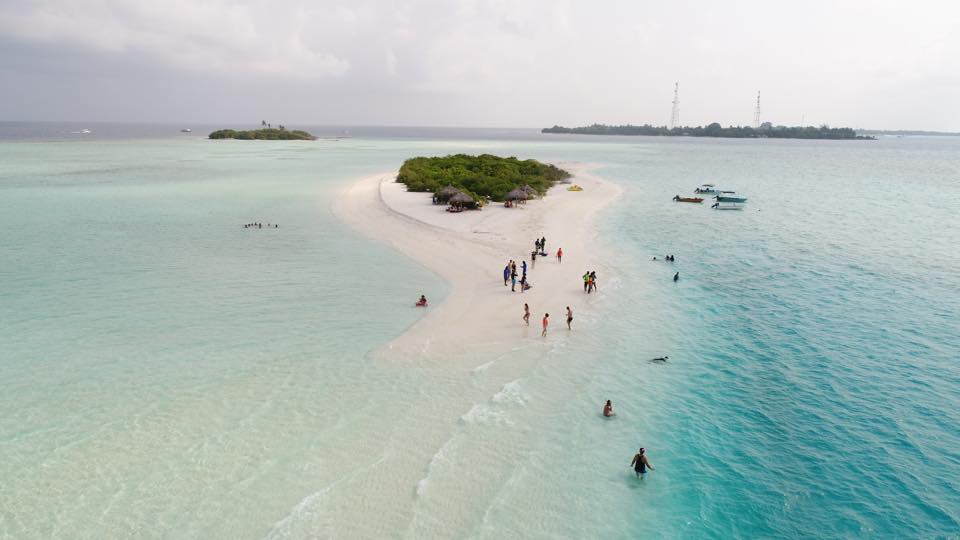 PHOTO: Rasdhoo kitesurfing - Rasdhoo Madivaru
---
This eid you can enjoy watching the Eid Badi Roakurun, along with joining locals for the special eid tea after the eid prayers, masrace, Vaadhemun (Tug of war), Bodumas Neshun, maali neshun, stage show, a barbeque at the port and several other traditional sports and activities.
Speed boat transfers are available to Rasdhoo frequently, which is going to make the trip so hassle free!
5. Dhiffushi
Dhiffushi is a small island in Kaafu Atoll, not too far from the Capital City of Male' and easily accessible with multiple speed boat transfers. This eid you can join in on a special tea held right after the eid prayers and a range of fun activities such as mas race, Dhafi Negun, Boduberu, Maali parade, Bodu mas and other traditional sports and activities.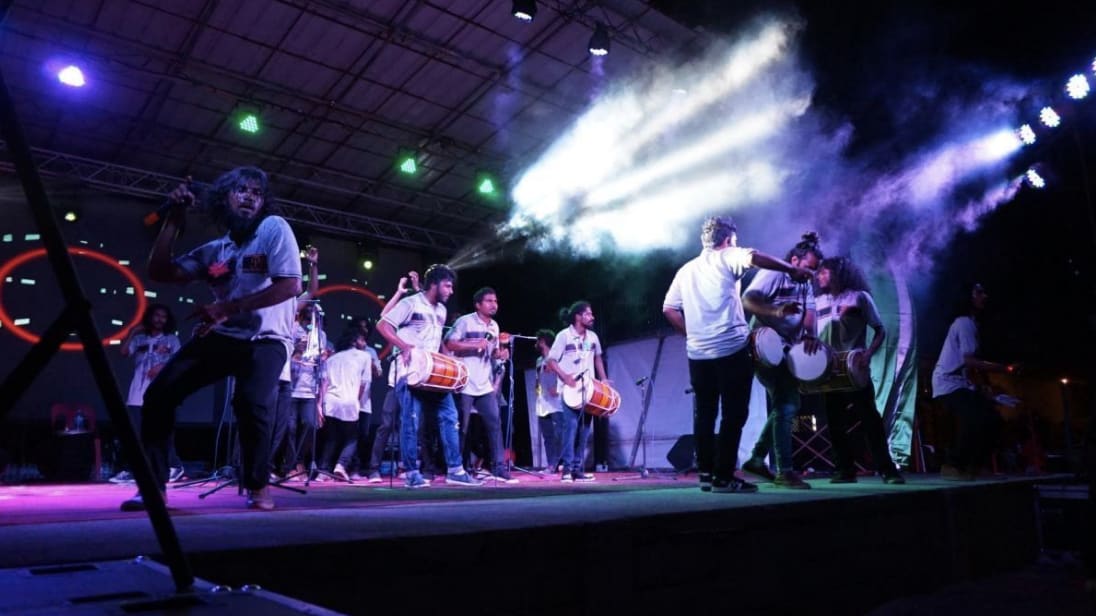 PHOTO: Dhiffushi ADD
---
A Bashi tournament for women, a Futsal tournament for men and a Children's evening for kids will also be held and all of this topped with fireworks really tempts us to visit Dhiffushi this Eid!
6. Thoddoo
We may all know Thoddoo as the watermelon central of Maldives but that's not the only thing you can enjoy this Eid.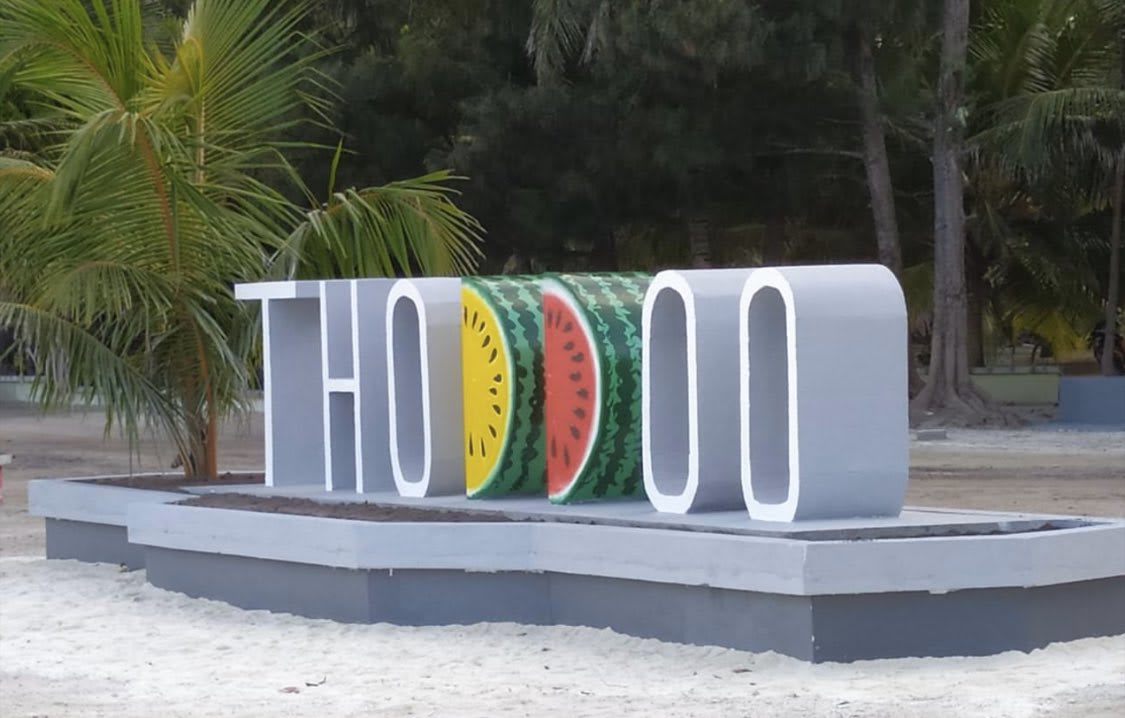 PHOTO: Thoddoo
---
You can enjoy a special Eid tea held after the Eid prayers in the morning. It is guaranteed that there will be something for everyone. Activities such as Children's evening will be held along with traditional activities such as maalinerun, boduberu show, masrace and several other activities are planned for this Eid.
Getting here has been made easy with several transfer options. Download ODIAPP to book your speedboat tickets.
7. Maafushi
Maafushi is the most popular local holiday island in the Maldives, with speed boat transfers available frequently.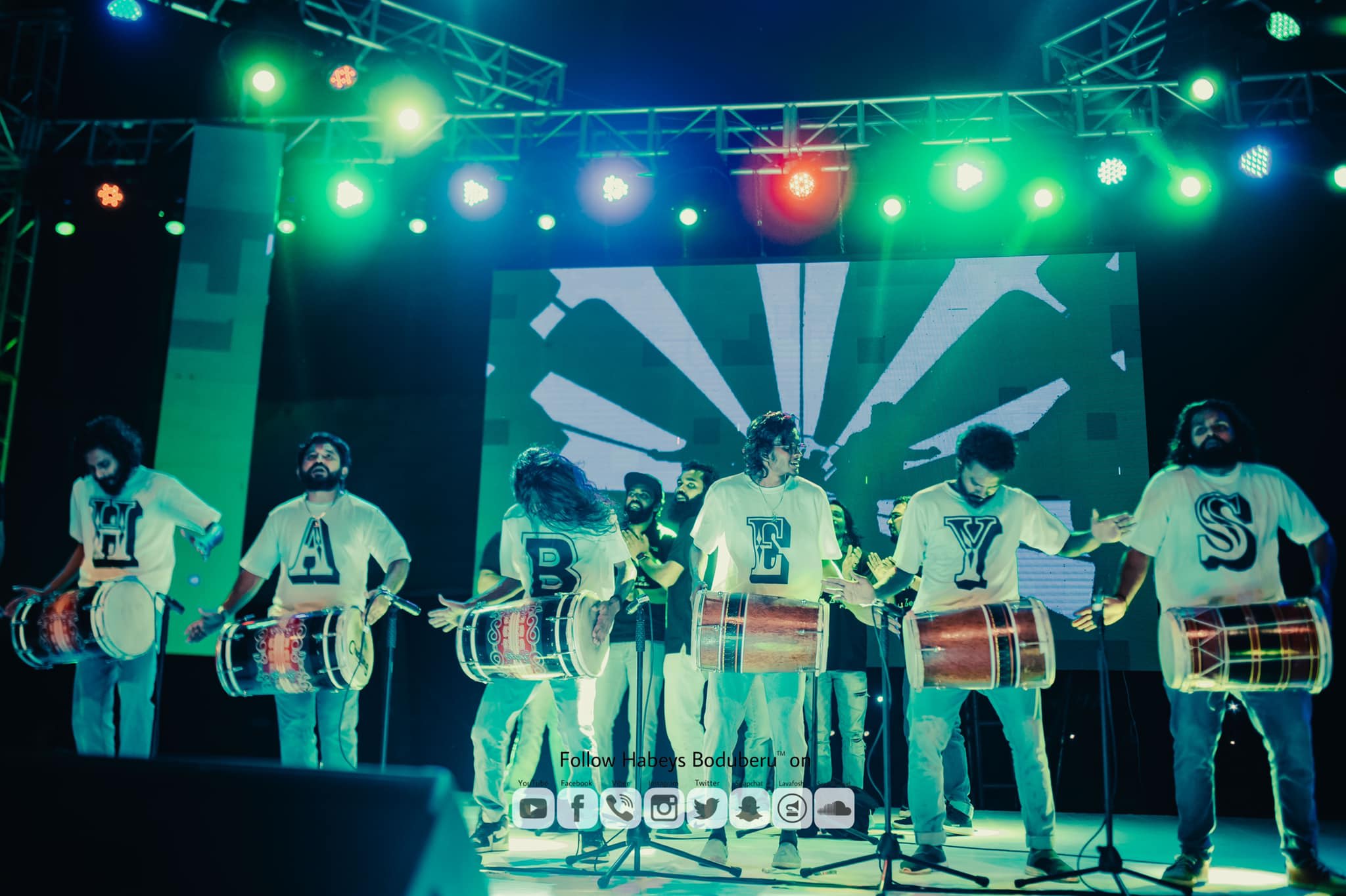 PHOTO: Habeys Boduberu
---
A fusion of different activities and food makes this island very interesting to visit anytime of the year. Hop onto a speed boat and check out various traditional activities along with a stage show held in the island during the Eid holidays.
To visit these amazing islands, book your tickets online on odiapp.